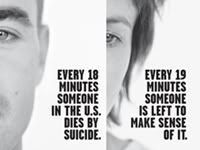 So.
I never know how to start these things.
Name's Mariah. I'm sixteen years old. I've survived both a suicide of a loved one and my own attempt.
I've created this blog in hopes that my expiriences may help someone in a similar situation, and to educate the public that teen depression and suicide are very real and important issues today. Though many would prefer not to face them, I believe it is vital that they are more widely known and recognized.
Thank you for viewing, and please do return.