First of all, a belated apology to anyone who has arrived here from The-F-Word.org. I have no idea why I am linked there. This blog has very little to do with self-image and eating disorders.
A few nights ago, I was reading some older posts on The View From Hell. One post was a response to Suicide.org's contributor Kevin Caruso on his opinion that suicide can never be morally justified (page here). The Curator answers these questions excellently, but I thought I'd give them a go with my own opinions.
Suicide.org is not a unwholesome website; there's actually some useful information on there. Some of the "articles," though, are written in this awful tone as if the reader is three years old and only has a vague idea of what suicide is.
Do you have the right to devastate your family?
Yes I do. Plenty of young people devastate their families by marrying drug addicts, moving across the country, dropping out of school, and dying by causes other than suicide, for example. They are within their rights to do as they please, and I am no different than they.
Do you have the right to cause intense, almost unbearable pain for all of the loved ones that you leave behind?
See answer to above question.
Do you have the right to take away any possibility that you would get better?
One of the main reasons people have for committing suicide (yes, I use that and I don't find it offensive) is that they need to escape pain and see no other options. The idea is that if you're dead, you cease to exist, and don't feel anything at all. Death effectively terminates any chance of it getting worse too.
Do you have the right to take away all of the wonderful things in life that you have yet to experience?
Depression wouldn't be so unbearable if things could still be wonderful, would it? Again, I have a right to do as I choose. For example, my favorite food is chocolate ice cream. In my opinion, eating it can be described as a pleasing experience. However, no one can stop me if I decide to dump it down the drain, depriving myself of the pleasure of enjoying it.
Do you have the right to take an action that is a permanent solution to a temporary problem?
Who's to say that these feelings will be temporary? And if they are temporary, I'm not ever going to find out that I could've ended differently if I'm dead.
Do you have the right to cause irreversible brain damage to yourself if your suicide is not completed?
Ideally, the suicide will be completed, but as we all know, the world is not perfect. Obviously, I don't care enough for my body as it is to hang myself/sh

oot myself/slit open my wrists. The brain is a clump of grey matter.
Do you have the right to cause yourself to become disfigured if your suicide is not completed?
People have a right to do this: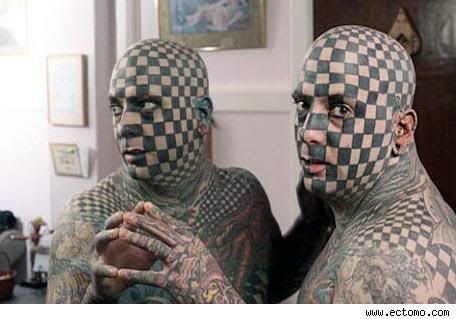 Need I say more?
Do you have the right to cause yourself permanent paralysis if your suicide is not completed?
As far as I am concerned, if I for some reason wanted to, I could destroy my spinal cord. But then again, I don't want to. If I were to attempt suicide, I'd rather it be successful.
Do you have the right to end your life instead of focusing on ending your pain? (It is the pain that you want to end, not your life.)
Sometimes, all other available methods of coping with and trying to end pain have been tried unsuccessfully. Suicide ends pain, but it has the ugly side effect of ending life as well. And how do you know what I want to end anyway?
Do you have the right to not receive treatment for the mental illness that you probably have -- the treatment that will make you better?
"Mental illness" are just words. The pain is very real. Let's say I have been in treatment and it hasn't done anything for me, which has been known to happen. This pretty much nullifies the question.
I would also like to answer every question on
this page
with the same answer: I could, but I wouldn't want to unless I feel that this person, for whatever reason, deserves or he/she/society would benefit from it.